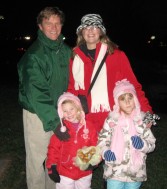 We recently got to visit the Beach Waterpark for their annual Holiday Fest.  Lucky for us, our tickets were covered since it was a Christmas party for my husband's work, but if you go online to https://tickets.thebeachwaterpark.com/mainstore.asp you can get discount admission tickets.  I highly recommend that you purchase the all you can ride wristbands since once your kids get inside the Beach, they'll want to do some of the attractions multiple times and just purchasing the admission really doesn't let you do a whole lot.  Case in point is the tobaggon slide.  You get your sled and then head up quite a few stairs (no need to do a workout on the day you visit) and then once you're at the top, you either get really excited and start jumping up and down like my girls did or you get really nervous and start thinking, "what have I gotten myself into".  The best way to take it all in is to hop on that sled and you'll be zipping down the icy plunge in no time flat.  Both my girls wanted to do this over and over again.  I could only handle three times but my husband was lucky enough to do many repeat performances.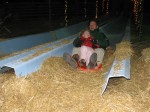 Make sure you bundle up since most of the activities are outside.  They do have a heated lodge area when you first enter where the kids can see Santa and get a photo taken.  They'll let you use your own camera but it'll cost you $3 or you can purchase some of their packaged deals (a bit pricey for us so we opted out).  They have an outdoor ice skating rink and the workers were so nice and they even offered to help my girls get their skates on.  This was a big help when you have two excited skaters ready to go.  On the ice, there were some friendly skate staff to help get you back on your feet if you happen to need it.  My husband claims to have "weak" ankles so skate duty was all me and having the extra helping hands was really great.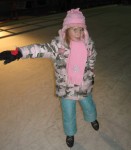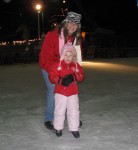 There are pony rides and the most adorable petting zoo with lots of baby farm animals to see and touch (cows, goats, rabbits, deer, donkeys and more).  You can also take a horse drawn wagon ride through the park and you'll get to see many of the wonderful lights illuminating the path.  If you get too cold, there are hot chocolate stations throughout the park as well as plenty of yummy food if you get hungry.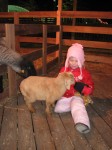 Our family really enjoyed our visit and the girls keep asking when are we going to go back which is always a good sign of a successful FOD (family outing day).  The Holiday Fest is open through January10 so you still have plenty of time to bundle up and enjoy some family fun. They even have a New Year's Eve event if you're looking for something to do as a family.  Happy Holidays!