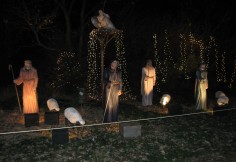 Shepherd Display (my camera does not do it justice).
We had a wonderful Thanksgiving this year and hope you did too.  It was great spending quality time with our families.  Of course, after eating a huge turkey dinner with all the trimmings and plenty of desserts, we wanted to do something more active the next night.  Since we had some family from out of town, I wanted to take them somewhere memorable.  After some thought, we decided to head to Niederman's Christmas Farm in Liberty Township, Ohio. 
If you've never been to the Niederman Family Farm, you are really missing out.  They have one of the most amazing outdoor light displays I have ever seen and there is no charge for admission.  We visited last year and my kids were captivated by the luminous lights guiding you through a joyous Biblical adventure. Before you visit, make sure you get directions since it can be a bit tricky to get to if you rely strictly on a GPS machine (lesson learned).  But, after a few wrong turns, we finally made it to the farm and all the stress of getting there was forgotten.  As soon as you turn into the farm, they request that you turn your headlights off and your car slowly travels through a long illuminated tunnel.  My girls were in awe.  "Mom, this is sooooooooooo cool "(I did a double take since this was my four year old talking). My six year old kept saying, "Wow" and our guests were amazed.
After parking the car, you start on the walk.  The paved path is wheelchair accessible and is large enough to accommodate many walkers.  Make sure you dress appropriately because if you take your time and read the various quotes by the displays, it may take you some time to get to the big barn at the end of the walk.  Since my girls were walking at a quicker pace, we stayed warm.  On your walk you will hear festive holiday music as you enjoy the colorful lights highlighting the birth of Jesus and many other Biblical events. The shepherd and manger scenes are really something to see.  And at the end of the walk, don't miss the larger than life Angels (I really don't know how you could miss these).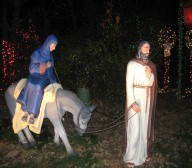 Now, even though we want our girls to understand the true meaning of Christmas and to appreciate the birth of Jesus, they still vividly remember that they got hot chocolate and cookies in the big barn at the end of the walk.  The Niederman's are so gracious that they open up this large barn for the public to warm up in after their walk and they kindly give out free cookies and cocoa.  The barn also has some holiday displays –from Nutcrackers to a mini village scene with a mini train to old farm equipment and another manger scene.   Mrs. Niederman was so kind and chatted with our group for a few minutes.  Now, even though admission is free, I would highly recommend putting a donation in their donation box located in the barn.  After you see all the effort they put into this wondrous Christmas display, you'll really want to contribute something but there is no pressure to donate and you don't have to feel obligated to do so. 
After gathering in the barn, my girls remembered that there were animals to see so we headed towards the two smaller barns and they got to see pigs, sheep, donkeys, llamas, and more.   Everyone had a great time and the Niederman's Christmas Farm is definitely a part of our annual holiday traditions.  I hope you'll be able to start one too.  Merry Christmas
The display is open from the day after Thanksgiving through December 30th from 5:30-10:00 pm.
4972 Lesourdesville West Chester Rd.
Hamilton, Ohio 45011
Ph: 513-887-0725
www.gregorycreekinn.com