A quick apology for not sharing our picks for "What's up this weekend" last week. I (Shannan) lead the charge for this post and my family was on a vacation adventure in Washington DC & New York City and I didn't have access to a laptop.
I hope you enjoy this week's picks and get out and see our beautiful city this weekend.  As always, if you know of an event you think our readers would enjoy, please feel free to leave it in the comments. Also, you can always submit events to us by emailing FamilyFriendlyCincinnati(@)gmail.com.
————————————–
World Music Fest – This weekend World Music Fest comes to Covington. Included in the festivities on Saturday, is a free breakfast at Baker Hunt featuring Taste of Belgium waffles and coffee by Coffee Emporium at 9 am.  From 10 am – 3 pm Baker Hunt will open it's FREE Kids Zone with storytelling, music and hands-on activities for children, featuring David Kisor of Children, Inc (kids songs), Omope Daiboku (African storytelling), Faye Massey (Appalachian storytelling) and much more.  The event is HUGE so check out their web site for details.
————————————–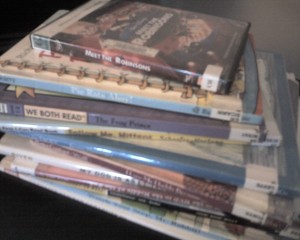 Books by the Banks – The Books by the Banks: Cincinnati USA Book Festival takes place Saturday at the Duke Energy Center downtown. The mega event includes the Target Kids Corner where kids will enjoy a variety of entertainment including story telling, meeting authors, a meet-n-greet w/ costumed characters like Clifford & Curious George and crafts.
————————————–
Jack O'Lantern Junction at EnterTRAINment Junction – Check out Entertrainment Junction's Jack O'Lantern Junction featuring fun mazes through haunted rooms, Victorian villages, mirror mazes and more. Cost to attend is $8, hours are 11a.m. – 5.p.m. For more on EnterTrainment Junction, check out a local mom's review here.
————————————————
Tri-State Multiples Sale – Oct. 17 –  8:30am-11:30am – www.tristatemultiples.com –  $1/admission (cash only). Find lots of baby clothing, strollers, toys, and more. Princeton Communtiy Middle School – 11157 Chester Rd.
————————————————
Fall Scavenger Hunt – Oct. 17 – 2pm –  Have fun with the family on a scavenger hunt, make crafts and learn about the season. Sharon Centre, Sharon Woods. 11450 Lebanon Rd. www.greatparks.org.
———————————————–
Spooktacular – Oct. 17 – Columbia Elementary School – 6-9pm. FREE admission but tickets needed to play games. Fun for everyone – games, pizza, drinks, Halloween activities.  Haunted walk behind the school. 8263 Columbia Ave, Kings Mills, Ohio. 513-398-8050 x 13000.
———————————————-
Highfield Discovery Garden – Oct. 17-18 – Check out my "Website" – 10:45am, 1 & 4pm. Learn more about spiders and the webs they weave. Glenwood Gardens. 10405 Springfield Pike. Program is free with admission to the garden.
————————————————
The J's Got Talent – Oct. 18 – FREE – www.jointhej.org – 3pm – Nothing beats a day of free entertainment and live performances and they are competing for your votes. Mayerson JCC – 8485 Ridge Rd. 513-761-7500.